About & Performance
Crude oil is the world's most traded commodity and two global benchmarks set the price: West Texas Intermediate (WTI) and Brent.
WTI and Brent trade in $US per barrel (42 US gallons/159 litres) and have excellent market transparency. The two benchmark prices are highly correlated and usually move in unison.
Global supply and demand is driven by economic conditions and geopolitical issues. See this video for a summary of the main factors that affect the the oil price.
The Betashares Crude Oil ETF (OOO) is the only ASX listed ETF that tracks the price of oil.
Market Index tracks the NYMEX WTI Futures which are the most quoted benchmark.
| Performance USD/bbl | Amount | Change |
| --- | --- | --- |
| 1 Week | -3.68 | -4.84% |
| 1 Month | -8.54 | -10.57% |
| 3 Month | -14.58 | -16.79% |
| 6 Month | +0.58 | +0.81% |
| 1 Year | -5.09 | -6.58% |
3:14 pm 06/12 AEDT USD/bbl
Australia has produced oil commercially since the 1960s and currently holds 0.3% of the world's oil reserves. [1] Production peaked in 2000 and has slowly declined since. Western Australia is the largest producing state and accounts for ~71% of Australia's oil [2]. View an image of Australia's known crude oil reserves.
Thu 23 Nov 23, 1:26pm (AEDT)
Wed 11 Oct 23, 1:03pm (AEDT)
Fri 24 Mar 23, 3:02pm (AEDT)
Quick Quote - instant share price
()
| | |
| --- | --- |
| Volume: | |
| Turnover: | |
| Market Cap: | |
See Full Details
See Full Details
WTI vs Brent
WTI (Midwest U.S.) and Brent (North Europe) are both light and sweet crude oils
WTI is most quoted in media but Brent is slowly overtaking WTI as the industry standard. With its recent increase in liquidity and trading activity, Brent is now used as the benchmark oil price in Europe, West Africa and most Asian countries.
Some also consider Brent a better indicator of global oil prices as it draws its oil from multiple oil fields in the North Sea (compared to WTI's one region).
Price Difference
WTI is lighter and sweeter than Brent, making it easier to refine and (historically) command a slight premium.
For decades, the prices have moved in unison with WTI a few dollars per barrel more expensive. Recent growing stockpiles of WTI in the U.S have resulted in a price "switch" and Brent is now more expensive.
Grading Crude Oil
Crude oil reservoirs have their own unique characteristics and properties. The market value of an individual stream can be determined by grading the oil on two scales:
1. API Gravity
The oil's density to water which ranges from "light" to "heavy". Light is the preferred density.
2. Sweetness
The sulphur content of the oil. Less than 0.5% sulphur and the oil is "sweet" while greater than 0.5% indicates the oil is "sour".
The market prefers sweet crude (e.g. North Europe and Central U.S.) to sour crude (e.g. Middle East) as it requires less processing to remove impurities.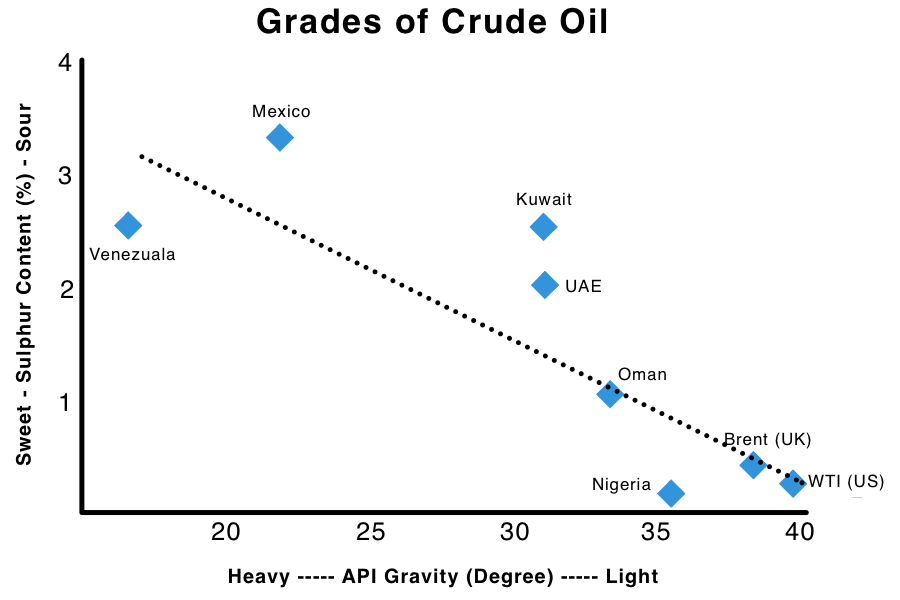 Historical Chart
Resources